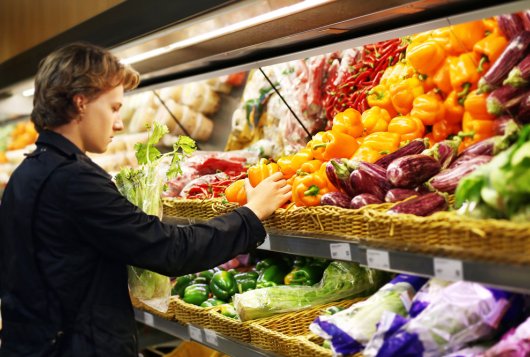 Blog post
Four ways to organise personalised products and services
Published on

March 20, 2018


In many industries, the personalisation of products and services has become an important alternative to standard commodities. By adapting products and services to specific needs of a subgroup, added value is created for customers (ref.1). The way in which products and services are being adapted to these needs varies and depends on the following three dimensions (ref. 2):
1. Product Volumes (small, medium, large): the number of identcal product that are made
2. Product Variation (low, medium, high): the number of different products and services that are offered
3. Customer involvement: the intensity (low, medium, high) and timing (design, assembly, delivery) of customer decision making
This blog illustrates four existing types of personalisation. It explains the role of the three dimensions in each of the types, offering inspiration to companies looking for ways to develop and implement personalised products and services.
Type 1: Profile Personalisation: getting the right product or service to the right person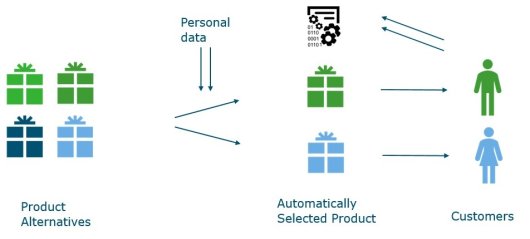 This first type 'profile personalisation' comes into view when product variation and customer involvement intensity are relatively low, product batches are relatively large and the so-called customer order decoupling point (ref. 3) is at a late stage of the supply chain. With profile personalisation customer information, which may include geographical information, previous purchase information, social media and browser activity, and lifestyle characteristics, is used to focus and customise marketing efforts for already existing products. This type of personalisation is widely used by companies, especially in online sales. Well-known examples are Google, Zalando and Amazon.
Within Food and Nutrition this type of personalisation is used among others by retail through membership cards. These retailers can offer products or services that are in line with previous purchases. With the use of advanced algorithms and machine learning, the match between profile and product becomes more and more accurate over time.
Type 2. Modular: create your personal preference based on readymade building blocks
Personalisation with Type 2 'Modular' occurs when customers choose from pre-defined modules that can be combined without requiring fundamental changes in the production process. By combining modules, customers can assemble their own product resulting in a (potentially) large variety of products. A well-known application of this type of personalisation can be found in the car industry, where starting from a basic model, customers can choose colour, number of doors, types of seats and all kinds of 'extras'. Over time modularity has been adopted by a large variety of industries including fashion (e.g. Shoes of Prey) and building (e.g. Fast House).
Also within Food and Nutrition modular business models have been adopted: think about the way some businesses offer choices of pizza toppings or salad ingredients. Other examples include My muesli, an online store in which customers can pick and mix their own muesli which is then packaged and home delivered. Another example is Coca Cola Freestyle, a soda machine in which customers can chose their soda style (e.g. Coca Cola, Fanta) and taste (e.g. lime, grape). This way customers can create combinations that cannot be found in stores.
In the Health sector, a business model resembling a modular approach is the way a personal training schedule is created in a fitness centre where specific types, duration and gravity of exercises can be selected to create the right mixture of cardio fitness and muscle strength.
Type 3: Designed to Order: designed by experts based on your needs
In type 3 'Designed to Order' business models an expert creates a design that suits the specific interests of individual customers. Customers review whether the product or service meets their needs. This type of personalisation is known from websites and fashion (e.g. tailored suits). Within food this business model is used in high-end product offerings. Examples include chefs who offer dinners or workshops at home (eg. uwchefkokthuis) or the tailor-made meals for professional athletes.
Type 4: Print to Order: Your personal design becomes reality
Type 4 'Print to Order' business models offer printing services in pre-defined formats and materials for customer designs. This way unique products are created for each customer as the costumer creates his or her own design. Print to Order models are similar to design to Order models. Also in Designed to Order models customers are involved in the design phase. Main difference is that in Print to Order models, the customer makes the design, while in Designed to Order models the design is made by experts based on direct customer input.
Print to Order first started in the publishing sector. An example is Borders: in-store electronic kiosks that enable customers to try self-publishing. Currently Print to Order business models are used for a variety of materials.
Examples in Food are Print Cheese, offering cheese printed in all kinds of shapes including company logos and Melt Icepops: 3D ice-cream molds. The Share a Coke campaign, where customers can order Coke bottles with a self-defined name or phrase is another example of a Print to Order model.
Modular business models are more and more combined with Print to Order business models through combining the choice of some pre-defined building blocks with the option to include personal texts (e.g. Nike ID) or by extending the option of your personal design with choosing from readymade designs (e.g. Ponoko: where designers upload blueprints and users then order the items to be made to their size and material specifications).
New insights around personalised health & nutrition
Existing products and services in personalised health and nutrition are often based on expert advice with customers providing personal data: a combination of the 'Designed to Order' and 'Profile Personalisation' models described above. Examples include Glooko and Nutrino 2.0. Personalisation within health and nutrition only provides a limited role for customer involvement: few business models seem to exist yet that provide a central role to the customers' design or customers product ideas. Neither have we found an extensive use of modular business models in which personal choices on multiple aspects together provide a coherent lifestyle advice for health and nutrition.
Placing customer involvement central to the design and offering of products and services, opens up opportunities for completely new business models in personalised nutrition and health. These models move beyond existing ways of personalisation towards customer-driven nutrition and health. Possibilities include:
Upload your own recipe and receive suggestions to make it healthier (as alternative to providing healthy recipes)
Design your own lifestyle improvements (what would you like to do) and get it reviewed on its impact on your health
Modular lifestyle advice in which the customer can create their personal lifestyle program based on their goal (e.g. weight control, optimal energy levels, overall fitness), preferred elements including nutritional and/or behavioural aspects, etcetera.

Designing your business model in personalised nutrition and health
When designing your business model for personalised nutrition and health, keep the following two aspects in mind:
1) Know your customer:
What type of involvement is your customer interested in in terms of timing and intensity?
To what extent is a unique product or service (i.e.: low volumes) important for your customer?
To what extent is it important for your customer to be able to choose from a large amount of products and services?
2) Be unique:
What types of personalisation do your competitors offer?
How can you differentiate your offer from existing products and services in terms of customer involvement, product variety and product volumes?
What personalisation exists in other sectors, but not yet in personalised nutrition and health? What would this personalisation look like in nutrition and health?

Inspired by the possibilities and want to know more about organising personalised products and services? Contact us at carlijn.savelkouls@wur.nl.
---
[1] Ronteltrap A., Van Trijp H., Berezowska A. and Goossens J. (2013) Nutrigenomics-based personalised nutritional advice: in search of a business model? Genes Nutr vol. 8:153-163.
Deloitte (2015) The Deloitte Consumer Review. Made to Order the Rise of Mass Personalisation
Duray R. (2011) Process Typology of Mass Customizers. In: Fogliatto F.S.; Da Silveira G.J.C. (eds.) Mass Customization. Engineering and Managing Global Operations. Springer.
[2] Duray R. (2011) Process Typology of Mass Customizers. In: Fogliatto F.S.; Da Silveira G.J.C. (eds.) Mass Customization. Engineering and Managing Global Operations. Springer.
[3] Olhager, J. (2010). The role of the customer order decoupling point in production and supply chain management. Computers in Industry, 61(9), 863-868. doi: https://doi.org/10.1016/j.compind.2010.07.011