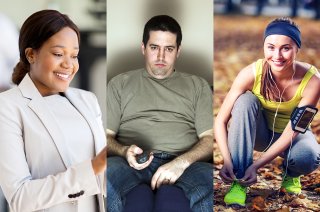 Use cases: consumer's perspective

The examples of Emma, Harry and Eva illustrate how each individual is different. That is why the research is conducted from the perspective of the consumer (use cases).
Whether we are talking about athletes, people on low incomes or in sedentary office jobs, personalised nutrition can support different types of consumers to benefit from healthy dietary choices. The Use Cases from within the Personalised Nutrition & Health research programme (PNH), identified the possibilities for specific target groups. By actively participating in the Use Cases, partners learned from their experience and findings, which added value and benefit to their business objectives.
Iterative approach
The Use Cases were set up according to a generic iterative approach. First, the current situation - with existing tools and methods from partners, concepts from other studies and research institutes or other third parties - was assessed. Subsequently, research hypotheses were defined for a specific target group. These hypotheses were evaluated in an intervention/trial that ran through all the steps of the Personalised Nutrition & Health Cycle, using existing tools, methods and concepts.
Use Case A: Personalised Nutrition for Highly-motivated Consumers
Highly motivated to change their behaviour because of a life changing event (at risk for a disease) or because they are becoming older and want to stay healthy long into their later years. This is the common denominator of the consumers in Use Case A. Personalised nutrition advice could help these people prevent a reduced quality of life through eating more healthily.

The consumers in Use Case A were divided into three subgroups:
Sports people: intrinsically motivated to live a healthy lifestyle; early adopters; willing and able to invest in tools and food
People with chronic lifestyle-related diseases (mainly cardiovascular disease, diabetes, obesity)
People who are at risk of contracting diseases (e.g. due to increasing age)
This Use Case is interesting for public and private partners who develop PNH programs, products and services targeted at one or more of these groups of highly-motivated consumers.
Click here to learn more about personalised nutrition for Emma.
Use Case B: Personalised Nutrition for Low Socioeconomic Status Families
Families with a low socioeconomic status (SES) are less healthy than families with a high socioeconomic status. They live shorter lives and their quality of life is lower. The potential savings in health costs are the highest in this group. For many companies this is an important target group due to its large size. However, the challenge to find effective approaches is huge.

This Use Case should interest public and private partners who would like to bring this socioeconomic group into contact with their programs, products and services.
Click here to learn more about personalised nutrition for Harry.
Use Case C: Personalised Nutrition for Employees @Work
These employees work for companies who encourage their employees to eat and live healthily. The employers would like to offer vitality programs that support their employees to do so.
The rationale behind such programs is that they would increase employee productivity by increasing employee engagement - making employees prouder of themselves and their workplaces, to keep them motivated to stay at the company and to reduce absence through illness.

This Use Case should interest employers who wish to encourage their employees to eat and live healthily as part of their vitality programs, and companies that already offer employee services such as catering concepts and coaching programs.
Click here to learn more about personalised nutrition for Eva.
Use Case D: Fibre Up tool
The better a digital nutrition recommendation matches the needs of an individual consumer, the easier it is to follow. To reduce the risk of diet-related disorders, such as diabetes, obesity, and cardiovascular disease, it is important that consumers learn about the role proper nutrition plays in maintaining and optimising health. A smart, digital, nutrition advisory tool that takes an individual's daily eating habits into account helps.

In addition to detailed product information on ingredients, nutrients, allergens, etc. and suitability for target groups and meal times, the digital advisory tool also provides scientifically based knowledge from dieticians, nutritionists, and behavioural scientists. The tool generates a personalised nutrition recommendation based on eating behaviour, preferences, and other characteristics, such as health status, vegetarianism, or your preferred meal time.

In the Vezel UP (Fibre up) study programme, the tool has encouraged participants to consume more dietary fibre. Afterwards, nearly half of the participants continued using the tool because of the encouraging, relaxed tone and freedom of choice that is used.